Real music Radio would like to thank Nadim Azzam for being our July Artist of the Month!
Nadim Azzam

Interview
. May 30, 2018.
Nadim Azzam bridges folk to pop to hip-hop. He brings an acoustic guitar with lyrics that can often wear the proverbial heart on the sleeve, but the chording is concentrated into quickened pop-hook staccatos with a soul intonation that sings catchy choruses but raps descriptive bars in between.
I've come to believe that no one fits in a single genre any more, these days, but this Ann Arbor based songwriter more than epitomizes that hypothesis. This omnivorous fusion of styles and vibes comes naturally when one is obsessed…, well, healthily obsessed, with music…, as Azzam is!
"Music has always had a profound effect on me, from my earliest memories of listening to Beatles' records or Eminem or Red Hot Chili Peppers, or Guns N' Roses…," Azzam said. And before we quote him again, just imagine a sonic stew that includes flavors from all four of those namechecked. "I've always found peace in the music I listen to…, it's therapeutic for me. I always wanted to create that for other people."
Though his voice and the rhymes of his sinewy lyricism is integral to the signature sound of his songs, it was the guitar that served as an entry into music. Metal music, actually! And his mom noticed how smitten he was with the instrument, with Azzam having just learned how to play Ozzy Osbourne's "Crazy Train" from a nextdoor neighbor, so she got him a guitar and lessons soon followed….
Azzam admits that he kinda wanted to be Slash (from GnR) when he was younger. " At the same time – but completely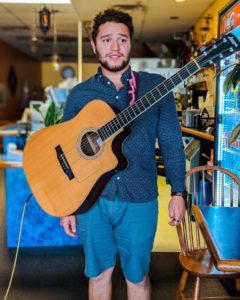 separate from my rocker ambitions – I started writing raps and spoken word poems. In fact, "Here's to Changes," the title track on my EP, was the first rap I ever wrote when I was 13 or 14…."
"I feel like I've always had the songwriting bug, or the writing bug in general, and it manifests itself through whichever mediums I can find and get my hands on the moment; whether lyrics, essays, short stories, guitar instrumentals, or beats."
But as we hinted at, Azzam emerged, at first, as a hard-rock/metal guitarist, strictly playing instrumental tunes. But as he started writing more and more, the rapping and the singing began to blend together organically.
"I've always tried to create what I like to listen to, which is a broad range spanning from classic and hard rock to hip hop and electronic music, and what comes out is the combination of those influences. I used to feel insecure about wanting to do so many different kinds of music, and some people would tell me I needed to pick a genre. But I've always followed my instinct and written what feels right, and it seems to work out!"
Read more of this interview at https://www.ecurrent.com/music/nadim-azzam/  
---
Click below for the Nadim Azzam website


---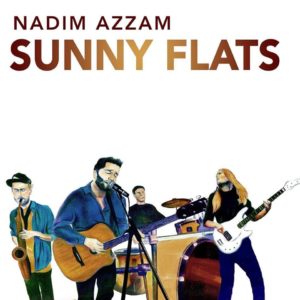 DESCRIPTION
This EP features Jacob LaChance on saxophone, Sam Collins on bass, Chris Robbins on drums. Mixed and mastered by
DJ ELL
. Hand-drawn cover art by Natalie Robbins.
   Check out these links!


---
Billboards Across the US

---
Music Videos
---
Nadim Azzam Q and A with DJ Jedi from Real Music Radio
Thank you for joining us and being a part of the "Real Music Radio" Family, it's an honor to have you as our "Artist of the Month" for June. Tell us about your latest release "Sunny Flats" and how it was birthed
Thank you for having me!! Sunny Flats is my most recent release, and it's all about the live band sound.  A little over a year and a half ago, I started hanging out with saxophonist Jacob LaChance and we would jam on these acoustic tunes I had written.  It started sounding pretty cool, so I started inviting Jacob to play at my shows.  Soon after, came Chris Robbins, who played drums on the project, and Sam Collins, my go-to bass player.  We started rehearsing & gigging a lot and these acoustic songs that I had written transformed into a new sound.  Sort of Saxophone driven, folky funk rock, acoustic hip-hop.  We played all over Michigan last year and developed the songs that would become the Sunny Flats EP.  I don't think I ever intended to record those songs for a project before I started playing with this line-up, but they really came together and it felt important to me to capture what we'd created.
I love hearing about the writing process when I talk to artists, can you run through how "The Swamp" came about?
When I'm writing, I usually start by developing a chord progression.  Then I'll play that over and over until a melody comes to mind, and then I'll repeat the process while humming the melody until the words come out.
I usually don't know what my lyrics are about during the writing process. Not until I've finished the song and can look back at the whole thing. Sometimes the real meaning of the song doesn't hit me until a year or two later.  Or maybe it's that the meaning changes to reflect what I'm experiencing at the time. 
However, the title "The Swamp" came about from a conversation I'd had with my father.  We were talking about feeling stuck in life, particularly in relation to smoking too much weed.  You know, feeling like your life is this little feedback loop that never really goes anywhere, feeling complacent about changing, yet always overthinking.   My father said "Yeah, some people get stuck in the swamp, don't get stuck in the swamp."  That stuck with me and I felt like it fit the sentiment of the song.
What's the Ann Arbor music scene like? Are there other artists in the area that you really dig that my listeners should check out?
Ann Arbor's awesome!! There's a lot of support for the arts here in Ann Arbor & in Ypsilanti. Plus we have the University of Michigan, and I love when there's crossover between U of M & the town.  Ann Arbor has always had an abundance of talented artists, I think the challenge can be organizing everyone's efforts to work together for the scene as a whole.  I really like MYNA, OSSI Music, Oren Levin, The Stellars, The Left Lanes, Tru Klassick, The Hacky Turtles (out of Grand Rapids), Shai-Li (Kalamazoo), to name just a few.
What is your biggest challenge you face today in getting your music out to the people?
I feel like there are more opportunities to reach people now than ever before.  It can certainly be a challenge to be heard over the never-ending stream of content and information available to everyone these days, but I think the most powerful way of getting your music out has always been word of mouth – both online & regionally.  When you make something that people really love and value, they talk about it & tell their friends.  For me, my focus is on always improving as a songwriter and vocalist so that I can create better and better music that more people can connect with.  Industry wise though, getting a proper publicist and booking agent is the next step in getting my music to the people.
You are teaching Musicology 101 at a local university, what are some of the albums you would require the class to listen to?
Sgt. Peppers by the Beatles, as well as the White Album, Rubber Soul, and honestly the entire Beatles catalog. A lot of Bob Dylan, particularly the tracks It's Alright, Ma and Hurricane.  Pink Moon by Nick Drake. Blond by Frank Ocean. Kendrick Lamar's To Pimp A Butterfly, and the rest of his discography.  College Dropout, Late Registration, and Graduation by Kanye West.  Every song Galimatias has ever released.  The Sun's Tirade by Isaiah Rashad.  K.O.D by J. Cole.  Appetite For Destruction by Guns N' Roses.  I'm just listing off some favorites that come to mind in no particular order, but the list is endless. 
Describe yourself in 3 musicians (not including yourself)
Oh man. You'll have to ask someone else what musicians describe me, I don't know.  I really look up to Kendrick Lamar, John Lennon, Frank Ocean.  My current style of music – especially with the live band – is very different from those three, but I'm moving towards those styles in the music I'm working on next.  They aren't how I would describe myself or how I think other people would perceive me, but those are major influences on me, musically and lyrically.
What band or artist do you listen to that might surprise people?
Probably most of what I listen to compared to Sunny Flats. I'm really into Hip-Hop, modern neo-soul/R&B, and the wide-reaching genre that's best described as "chill electronic music."     Frank Ocean, Kendrick Lamar, Galimatias, Isaiah Rashad, J. Cole, Tierra Whack, FKJ.    
8. Do you have any touring or other performances planned for the summer in     support of "Sunny Flats"?
We just played Buttermilk Jamboree & Ann Arbor Summer Festival, and we're playing at Lansing Brewing Company on July 13th.  Mainly though, I'm in recording mode & working on a full-length album. I won't be playing too many shows until I finish it. We'll pop up occasionally, but I want to get this album out before seriously hitting the road. The album is a different style musically, more up to date with where I'm at now and what I listen to.  It has a lot of melodic electronic hip-hop influence, with more modern production.  It'll still some acoustic-guitar based songs and it will feature plenty of live instrumentation, but it's a change from the live band sound.
When you have a day just for yourself, what are some of your "go to" movies or albums that you enjoy?
I seem to be flipping between phases where I either listen to modern/hip-hop/electronic music all the time or classic albums from the 60s, so it depends on the mood.   I've been listening to Sam Cooke recently, as well as Smino and Galimatias.
I've been reading/listening to audio books a lot more than I've been watching movies over the past couple years.  I'm always down to watch a Wes Anderson film though.
What is your favorite cartoon character and why?
My favorite cartoon character is the samurai Kenshin Himura from Rurouni Kenshin.  He's like this ultimate badass warrior, but after the war he swore to never kill again and become a wanderer to atone for his sins.  He carries a sword with a reversed blade – so he can fight with it but he can't kill.  The whole premise is that he wanders the country having to battle all the villians to protect the innocent, but he can't kill them. So he has to understand them and get them to change their ways even after he beats them in a fight, otherwise they'll just do it again once he leaves. His power comes from his ability to read peoples' emotions.  Every episode goes into the backstory of how the bad guy became a bad guy, tracing wrong turns in their lives.  It's fascinating.  Kenshin is this super kind and silly dude, but he's also incredibly wise and powerful.  He keeps a level head and I always appreciated his mindset. I learned a lot of life lessons from it.
---
Real music Radio would like to thank Nadim Azzam for being our July Artist of the Month!