BIO – Jeffrey Luna
---
Since an early age I've been into music. From listening to my parents records and 8 tracks in the all in one cabinet we had in our living room to my belt driven combo record player they bought me.  The first album I remember that was only mine was "High and Dry" by Def Leppard. I soon was given a Prince tape by a friend in jr. high ( Dirty Mind ). From the moment I heard that tape and read that it was produced, arranged, composed and performed by Prince I was fascinated and a dream was born. How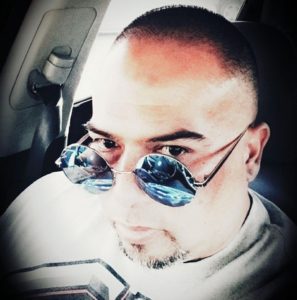 could one person do it all? Since that day I started listening closely to every song on the radio. I would spend nights at home just listening to every instrument and vocal by various artist. Not being as gifted as many other artist out there I was limited to being a consumer. Although I was an artist as far as drawing portraits and characters which I believe led to my more creative side. I learned over time I could see the finished product in my head before I even started the project. This played a heavy role in my early years as well as my love for music.
Over years of being around friends bands and still lacking the talent to actually play instruments ( minus a brief saxophone trial run ) I found my abilities to be more on the solid state drum machine, sampler and 8 track recorder. I could quickly loop a track build a drum beat and add samples from my Akai phrase sampler to create what I felt was less than perfect. Yet, still I felt that was not what I was meant to do.
I was offered the opportunity to purchase a complete Dj system that included two technic 1200's, a full Denon mixer set up with a DMX controller for 24 different pre intelligent disco lights. To put it short I played many weddings and back yard party's. These were the good old days.
Shortly after, I joined my uncles band. After many years of tapping my hands to the beat against my legs just about every chance I got I adapted to percussion instruments fairly easily. I learned a lot in that band from singing harmonies to moving to an actual drum kit. This is something I really enjoyed although I never mastered it or was good enough for the big stage, I had fun. Shortly after I started my own band with my brother, son, dad, cousin and a family friend. Great experience but you quickly learn the difference between a real musician, ( my cousin Andy ) and someone that loves music as myself. But, again we had fun and made people dance.
After a short cancer experience I got together with a friend and singer, Rosalyn. This is where I started finding where I fit in the music world. I eventually ended up managing several very talented singers and bands. For years I followed Prince and what he taught us about the music industry. So, I really wanted to offer these young and upcoming artist a fair chance to follow their dreams. I started eclypse6 productions. Together with Dreamstart Celebrity we gave it our best effort. Working with great producers and lots of talented people along the way we put out some promising singles and a couple albums that I feel were good enough to earn radio play. I also filmed edited and produced a hand full of music videos. Another great experience.
After the untimely death of my musical mentor Prince, I found a new path. I found myself visiting Minnesota, something I always wanted to do but never thought possible. Marveled at the genius of Paisley Park and met some of the nicest and most caring group of people I've ever had the pleasure of running across. This led to me starting a pod cast called " Love4oneanother ". This has been one of the most fulfilling jobs I've ever had. With the message being to stop looking for credit and just help people, ( a message Prince relayed ). I feel together with all the people I have been blessed to meet, we have brought people together. Now, with the start of REAL MUSIC RADIO, I have found a home. A purpose to be able to play the songs that have inspired, motivated, moved and helped people throughout the years. Not only can I bring the artist that we all grew up with to you the listener, I can now give the up and coming hard working artist a place to be heard next to mainstream. Without the woes of pay to play everyone is on the same level. The songs that have been shelved will once again be heard. This is my dream come true.
Always show Love4oneanother