Welcome to the Real music Radio's Legacy page
---
How does one become a Legend or leave behind a Legacy?
Here at Real music Radio we honor those that have in one way or another shared their unique artistic ability with the world and left behind something that others will learn from for years to come. This artistic ability can come in many forms other than music. We are proud to celebrate those individuals or groups here at Real music Radio that have accomplished this. Enjoy
---
John L. Nelson
Born in Cotton Valley Louisiana and raised in Minnesota John L. Nelson was the first African-American hired at Honeywell in Minneapolis where he worked for over 35 years. At night the kids would hear their father play piano while they fell asleep.
John L. Nelson's passion for music and performance lead him to become known around the city's clubs and burlesque houses as the band leader who's stage name was Prince Rogers, the leader of the Prince Rogers Combo.
Divorced and remarried, John L. Nelson and his new wife Matte had a son they named Prince Rogers Nelson. Many years later Prince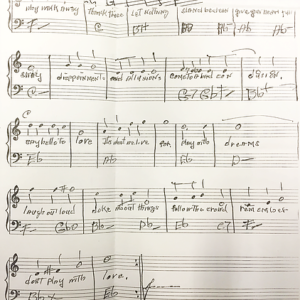 and his dad collaborated on such songs as  Computer Blue, Scandalous and the instrumental of Purple Rain. Sharon quotes her father "Your money is in your melody", as she reflects on her ability to pick out the melodies from his songs. Sharon and her father spoke about releasing an album of his music as early as 1978, but time passed by.
Destined
---
Sharon L. Nelson speaks of her father in great detail and with great respect. John L. Nelson was a Jazz Man; a self taught player who leaves a legacy of his own. To honor that legacy on what would have been his 100th birthdate, she produced this album in a straight up Bebop way, so she brought in the best.
Louis Hayes needs little introduction in the Jazz world, and just happens to be the nephew of John L. Nelson. The band met at Paisley Park, which Hayes describes as '…a very unique experience, like going to the great Pyramids."
The band is beyond seasoned – Hayes on drums, Rick Germanson on piano, Vincent Herring on sax, Dezron Douglas on bass, and Jeremy Pelt on trumpet. They hit the studio with little advance knowledge of the music, and got down to business. No playbacks, no overdubs – one take to stay true to the full intent and legacy of the man and his compositions. The result is pure and timeless, providing a clear image of the composer's time and the feeling of a present day performance.
As producer, Sharon L. Nelson has properly carried forward the intent and legacy of John L. Nelson and his compositions. The best musicians let the music play without getting in the way, and her choices of musicians, setting, and method deliver a recording that fully stands as a dynamic historical work of art and a fitting tribute to a man who left a legacy of both music and family.
"Our personalities are a lot alike, but his music is like nothing I've ever heard before. It's more complex. A lot of beautiful melodies are hidden beneath the complexity." (Prince)
There's more to the story! Find out here!

Editor Notes – Some bio excerpts taken from John L. Nelson website have been imported to Real music Radio with permission and other portions have been omitted or added.
---
Listen 2 and Buy the album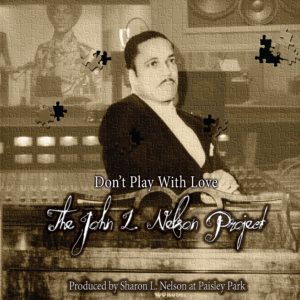 ---
Dj Jedi Conversation with Sharon Nelson
"I was fortunate enough to speak for over an hour on the phone with Sharon L. Nelson on a variety of subjects that ranged from Prince, my life, her life and of course her father's music. It was an wonderful conversation that truly felt like I was talking with an old friend from high school. We shared many stories, most of them off the record but I walked way with nothing but respect and admiration for this warm hearted soul. I truly hope you will support "The John L. Nelson Project", it's real music for real music lovers"- DJ Jedi
DJ Jedi: Emotionally, what was it like to be recording and producing this album of your father's work at your brother's home, I can't imagine the emotional roller coaster it must have been at times?
Sharon Nelson: Working at Paisley Park was exciting and emotional, I felt Prince would suddenly appear
DJ Jedi: You mention this music being in a cabinet and the project being shelved since 1978. Was there ever a time that it was close to being released by either you,  your father or your brother after 1978?
Sharon Nelson: I forgot about the music for years and pursued my musical career.
DJ Jedi:  Prince quite a few times over the years would mention your father and how incredible his work was, any insight on to why Prince never released some of John L's original music?
Sharon Nelson: I haven't any idea why Prince did not produce Dad's original music
DJ Jedi: Is there more music from John L. Nelson in that cabinet that we might possible hear in the future?
Sharon Nelson: I have a few more songs
DJ Jedi:  I think a lot of the Prince fan base has mixed feeling about who your father was. I don't know if it was because of Purple Rain or what but who was the real John L. Nelson?
Sharon Nelson: Read the Star Tribune story about my dad, the true story is there
   ( Read Story Here )

DJ Jedi: Since Prince's passing, I have been so intrigued by the early years of Prince's career when he was just this young man from Minneapolis about to set the music world on fire, do you have any stories from that time of your life when you realized "my little brother is gonna make it big" or when Prince realized he was going to make it big?
Sharon Nelson: Prince always knew he would make it big
DJ Jedi:  How do you think your dad would have felt about his music finally being heard and loved after all this time?
Sharon Nelson: Dad would be shocked and excited that his music was successful
DJ Jedi: Now that you gone through this process of getting this album done, any other projects coming up that you can tease us about?
Sharon Nelson: I will be producing my original music shortly
DJ Jedi: Finally, thank you so much for joining us, I hope this album does really well and John L. Nelson and his music will gain the respect that I feel he deserves, Anything you'd like to say to the fans about yourself, your father or your brother and the Nelson family legacy?
Sharon Nelson: I am hoping the younger generation will embrace this jazz album, because the music they are listening to is from our roots, bebop, hip hop and doowop.
All rights reserved
---
Billboard in LA, Chicago and Salt Lake City

Videos
---